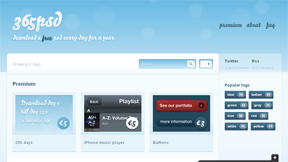 "Kill your darlings." Every designer knows what this means. You design something really beautiful, but it does not make it to the final design. The design that you have made with love, pixel by pixel, never really fits in new projects. These poor files are left catching dust in a dark corner of your hard disc…
But do not mourn, 365psd is a project to give these designs a second chance. Jonno Riekwel felt it was time for a change. "Why not give these files a new life by giving them away, for free?" So he started on a journey to release an unused .psd design everyday, for at least a year. Others have already joined to also give their files a new life.
And here we are, there are hundreds of .psd's ready to be downloaded. Please, have a look around and see if there is any design that you can give a second chance; a new purpose. Believe me, it feels great!