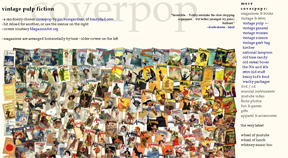 A coverpop can be a unique work of art, a software toy, or a fun way to shop for stuff.
Each coverpop is an interactive mosaic, made of tiny images, such as magazine covers. These are called "micro thumbnails". As you drag the mouse over each micro thumbnail, it pops up to a full-sized thumbnail image, and provides some information about the item. For some coverpops, you can click again to produce either a full-sized image, or to go to another website to learn more information about the item.
Some coverpops arrange the images by time, by price, or color. Other coverpops arrange the images into a photomosaic.